I constructed Imbalance by attaching pre-painted plywood panels to a 2×4 frame. Since the entire piece weighs too much for me to lift, I assembled it on the trailer. Of course that meant that I'd need a crew to lift the already-assembled piece off of the trailer. (More on that later.)
Everything needed in camp was transported inside the Highlander and in totes on the Tower Trailer.

The drive to Nevada on Wednesday, August 24, 2022, was uneventful. As planned, I stopped in Reno and had a large dinner at Royal India. Then I filled the gas tank in Sparks, NV and took highways 80, 447, and 34 to get to the still-forming Black Rock City.
I entered Black Rock City early on Thursday morning. If you check the calendar, you'll see that my arrival was several days before the Gate officially opened. This was because, in addition to bringing Playa Art to Burning Man, I also volunteer at the ARTery. So I had an early-arrival pass.
In the morning, I quickly erected the 10-by-10 frame tent for shade.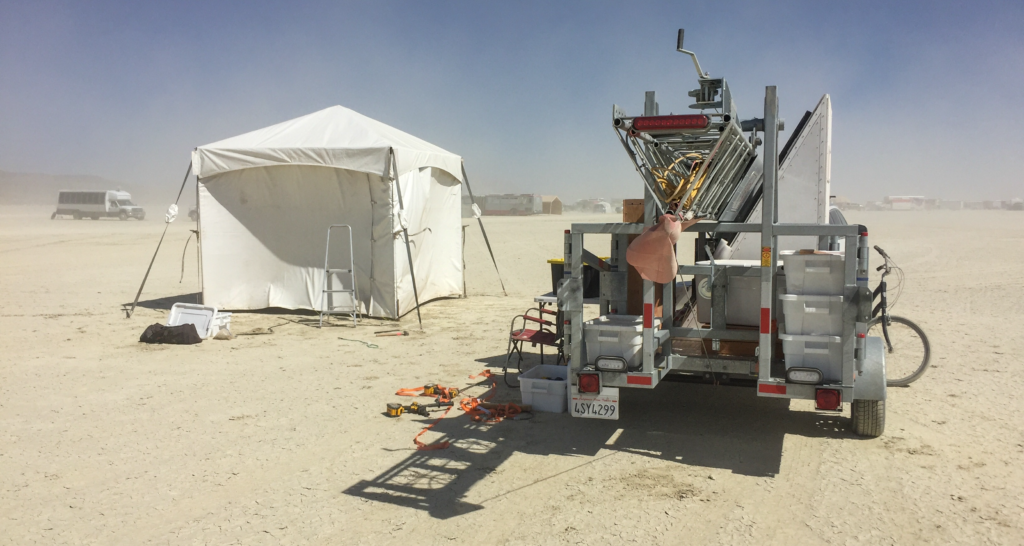 The rest of the week I worked a few ARTery shifts and installed Imbalance. Lifting the fully-assembled piece off of the trailer required the help of several passersby. One vocal individual doubted that we'd succeed and tried to shut down the effort, but the smallest member of the group countered, "we haven't even tried," and within moments Imbalance had been moved to the ground. I thanked everyone.
After the Gate opened on Sunday, August 28, everyone else starting to arrive and the camp formed. Our official address was Inception at 8:37 (where Inception is the name of the circular road that we were on, and 8:37 is the location along that road using the direction from an analog clock face). The aerial photo below shows Inception road along the bottom. Our camp is the roughly square, tent-city-looking area at bottom center. (Cropped from an aerial photo by Jamen Percy.)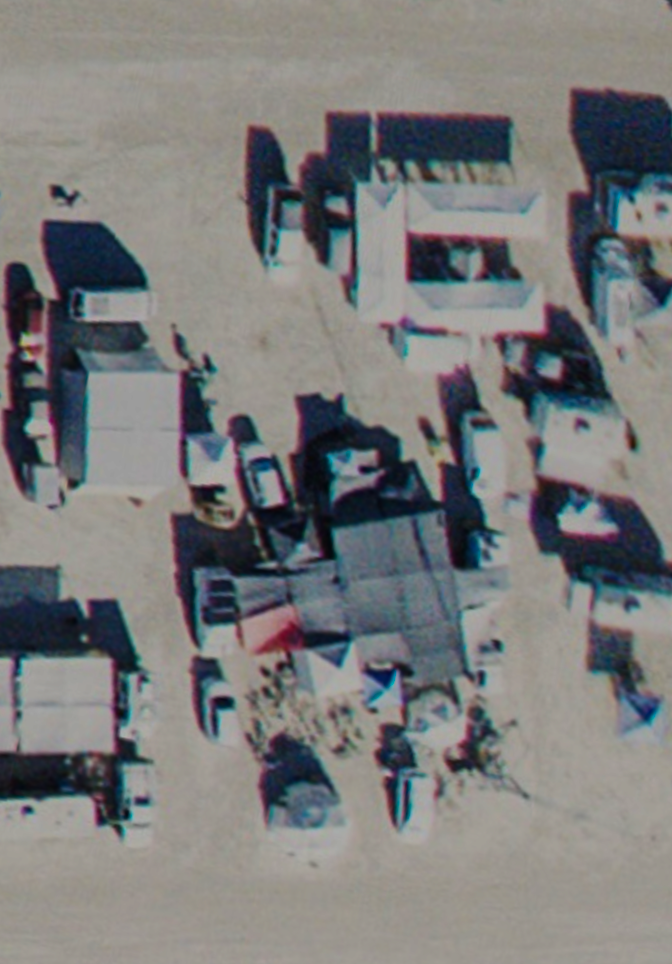 Here's Imbalance in the morning, one week later.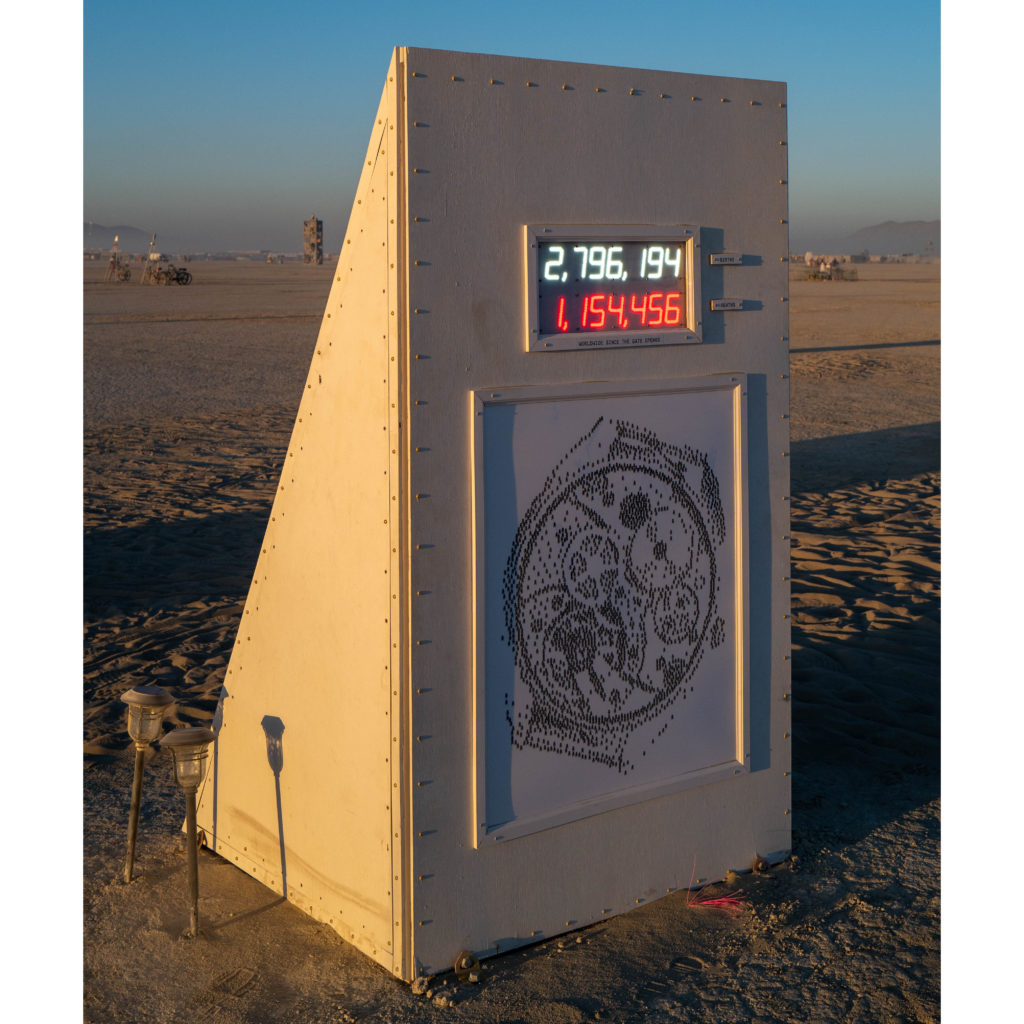 And here it is just before it was powered down and loaded onto the trailer.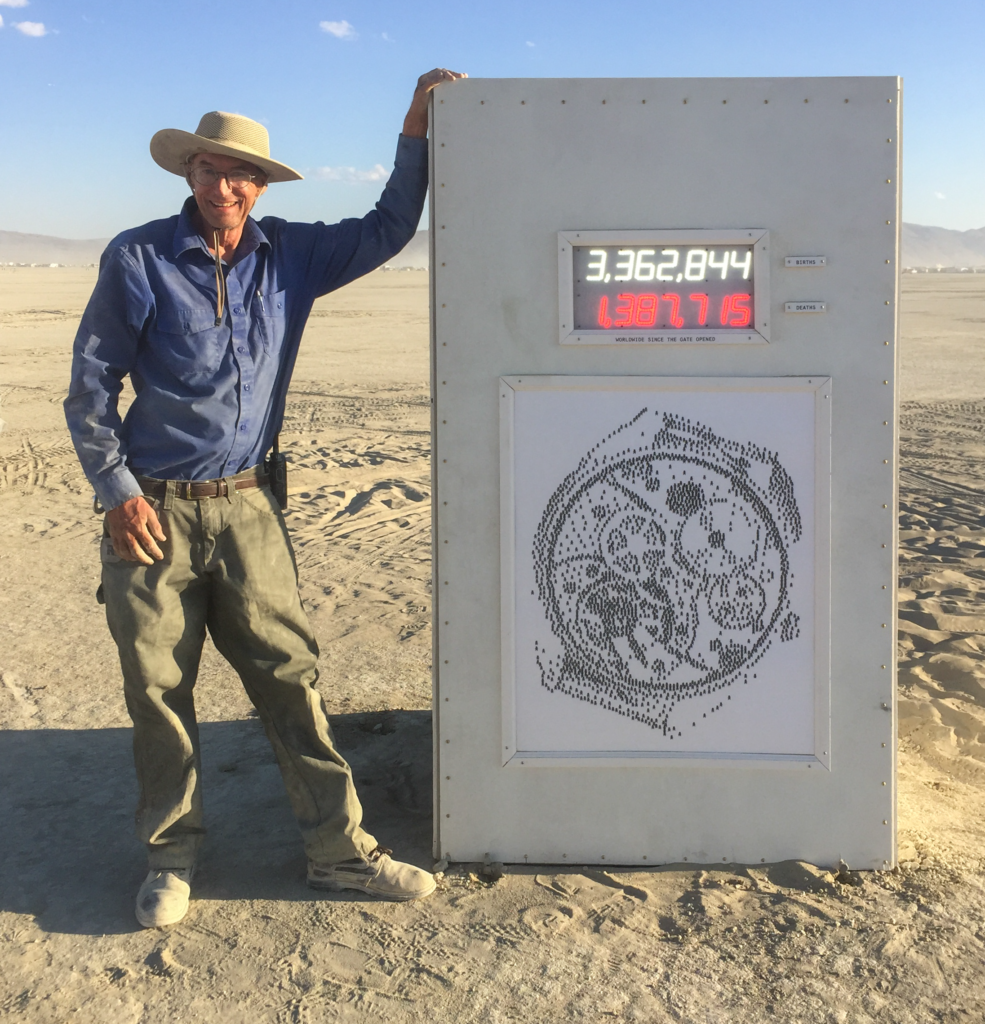 Members of the Serendipity Dispenser crew graciously delayed their departure for 20 or 30 minutes to help me load Imbalance back onto the trailer.
I left the Black Rock City on September 6 around 3:00 am and arrived home around 3:00 pm, with the only stops being for gas and for a two-hour rest in Nixon, NV.
The trip was absolutely worth it, and I look forward to Burning Man 2023!