Imbalance provides an austere view of birth and death on Earth. Animated LEDs beckon participants to a pair of digital counters that display the number of people who have been born and who have died worldwide since the Gate opened for Burning Man 2022. Intended for Burning Man 2020, delayed by Covid-19, and then destroyed by wildfire, Imbalance is reborn, simplified through exhaustion, wary but hopeful.

—Statement planned for the future Burning Man 2022 playa-art registration.
While developing Mortorious (2019), I discovered the startling difference in human birth and death rates. According to the People and Society section of the CIA's World Factbook, there are 4.3 worldwide births per second and 1.8 worldwide deaths per second. Imbalance viscerally reveals these rates using two digital counters that show the estimated number of worldwide births and deaths since the Gate opened for Burning Man 2022.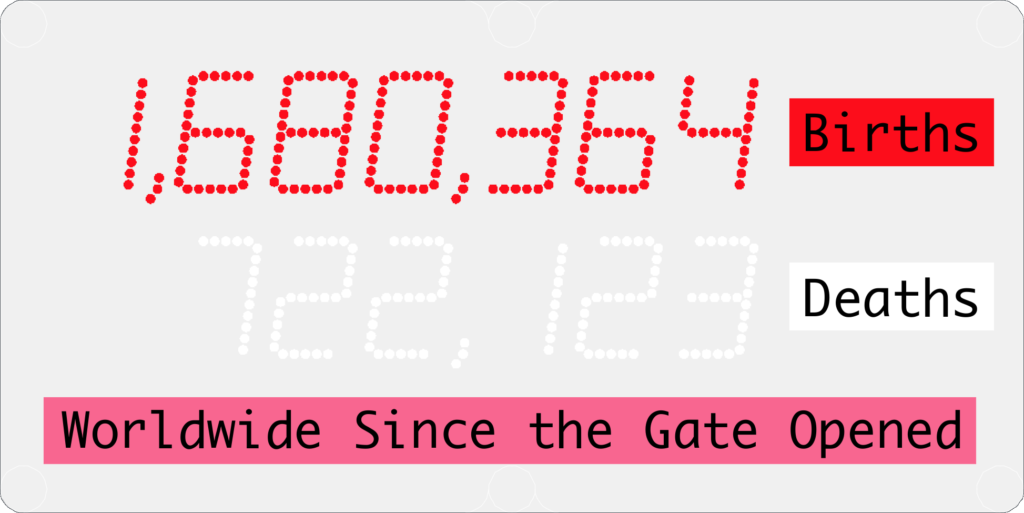 The form of Imbalance is deliberately plain. What's important is to experience the different birth and death rates, and so the counters are clearly marked and presented in an unadorned, white column. In addition to the counters, the only other illumination comes from LED strips that follow the column's four vertical corners. These strips perform three purposes. First, they provide nighttime illumination. Second, they attract participants to the piece for a closer look. Third, they display downward animated bursts of red and white light that are synchronized with the counters to let participants experience births and deaths from afar.
I don't yet know if the LED strips' red and white bursts will be animated to drop at the same rate or if the red bursts, which represent births and are more frequent, will fall more quickly. Regardless, it should be apparent that the red bursts represent the more frequent births.
The size of the column will depend on availability of solar panels since one idea is to mount a solar panel on the back of the piece. Although it seems an unusual orientation, as long as the panel is large enough, sufficient energy will be generated to power the piece all day and all night, even after a cloudy day. Another idea is to mount the solar panel in a more normal orientation some distance from the piece.
The next post will discuss the solar power system